Zabij mě líp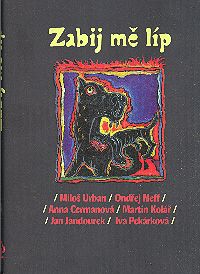 Tell a friend
CDN $18.00

(US $17.64)

CDN $5.00

(US $4.90)

141 pages

ISBN

: 80-86526-16-X

Publisher

: Listen

Published Date

: 2005

Cover

: Hard Cover
Czech
Detektivní povídky.
Tajemství, vraždy, záhadná úmrtí i napínavý děj v souboru Zabij mě líp nechybí.
Vpravdě hororové zážitky čekají pětici studentů, kteří přijedou strávit mrazivé Vánoce do starého zámku, v příběhu Miloše Urbana. Smrt jako odplatu "připravili" adrenalinovým řidičům lva Pekárková a Ondřej Neff. To je však jediné, co jejich texty spojuje. Rukou neznámého vraha umírá v malém americkém městečku jedna dívka za druhou; Martin Kolář vidí i drsné události očima dospívajícího chlapce, "psychouše", jak mu říkají jeho vrstevníci. V povídce Jana Jandourka se ztrácejí čtrnáctiletí premianti. Z odhalení, kdo je má na svědomí a jakým způsobem, člověka zamrazí. Teprve dvadvacetiletá studentka Anna Cermanová ve svém baladickém příběhu působivě zachycuje atmosféru horské vesnice, kam po první světové válce přijíždí nový učitel. Čtenář brzy vytuší, že v zapadlém koutě hor se schyluje k tragédii.
English
Collection of detective stories full of secrets, murders and mysterious deaths.