Umění vládnout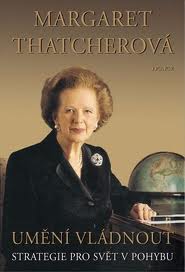 Tell a friend
CDN $35.00

(US $34.65)

CDN $29.00

(US $28.71)

444 pages

ISBN

: 80-7260-089-3

Publisher

: Prostor

Published Date

: 2003

Cover

: Hard Cover
Czech
THE IRON LADY - bývalá britská premiérka má ambici podat praktický návod k patřičné zahraniční politice pro nejbližší budoucnost.

Recenze: Je to skvělá kniha bývalé britské premiérky. Autorka zůstává věrna svému liberálně-konzervativnímu přesvědčení na každém řádku. Své názory podává přímo a neskrývá se za najasnou rétoriku některých levicových intelektuálů. S přehledem komentuje historické události, současné dění a také nabízí řešení ožehavých témat.
Jednoznačně doporučuji!!! … a vsadila jsem se, že Streep vyhraje Oskara ! Lenka
English
Powerful book by Margaret Thatcher.