CD Dýchací metoda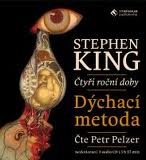 Tell a friend
CDN $32.00

(US $24.00)

CDN $10.00

(US $7.50)

Duration: 3 hodiny 27 minut
Czech
3 CD.
Příběh o smrti a přežití.
David Adley je pozván do pánského klubu, kde je vítán každý, kdo má rád dobré příběhy. Jeden neuvěřitelný zde vypráví bývalý lékař Emlyn McCarron. Příběh těhotné ženy Sandry, která porodí chlapečka, i když by sama měla být podle všeho mrtvá…Další z povídek Stephena Kinga, která vyšla v cyklu Čtyři roční doby.
Nahrávka vznikla podle knihy Stephena Kinga Čtyři roční doby, vydané nakladatelstvím Pavel Dobrovský – BETA v roce 2003 | Z anglického originálu Different Seasons – The Breathing Method přeložili Libuše a Luboš Trávníčkovi | čte Petr Pelzer | režie Michal Bureš | Hudba Ladislav Železný | Zvuk, střih a mastering Roman Špála a Jitka Kundrumová
English
Powerful story of death and survival.