Písničky o zvířatech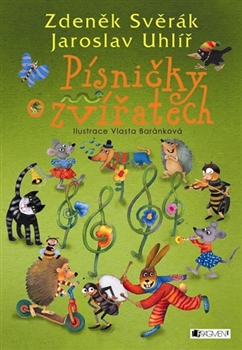 Tell a friend
CDN $22.00

(US $15.40)

64 pages

ISBN

: 978-80-253-1458-6

Publisher

: Fragment

Published Date

: 2013

Cover

: Hard Cover
Czech
Texty, noty a akordy.
Oblíbili jste si písničky Zdeňka Svěráka a Jaroslava Uhlíře?
Tentokrát jsme pro vás vybrali nejoblíbenější písničky o zvířatech.
Ve zpěvníku s krásnými ilustracemi Vlasty Baránkové najdete nejen texty, ale i noty a akordy. Tak ať se vám hezky listuje, zpívá i hraje.
"Když vkročíme do vsi, vítá nás štěkot psů, když vkročíme do lesa, sojka hlásí, že o nás ví. Ráno nám nedají spát kohouti. Některé živé tvory jsme si ochočili a poslouchají nás ( kůň, pes, někdy i kočka), u jiných se to nepodařilo (blecha, mouchy). O zvířatech si vyprávíme vtipy: Slon jde po dřevěném mostě a mravenec mu říká do ucha: Že ale dupeme! V téhle knížce je celé stádo zvířecích písniček."
Krásná knížka!
English
Lovely book full of songs, notes, music...