DVD Pupendo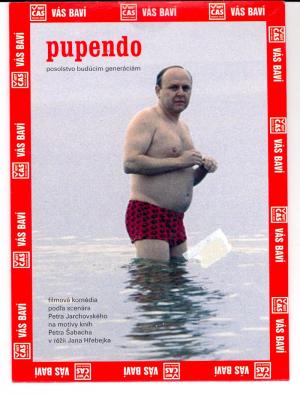 Tell a friend
CDN $15.00

(US $11.25)

CDN $5.00

(US $3.75)

Duration: 122 min.
Sub-titles: Czech and English
Czech
Úsměvná česká komedie o dvou rodinách, odehrávající se v Československu roku 1984 s Bolkem Polívkou. Do jejich klidného života nečekaně vstoupí kunsthistorik Fábera a díky němu se dostanou do nečekaných situací.
Boleslav Polívka, Eva Holubová, Jaroslav Dušek, Vilma Cibulková, Pavel Liška a Jiří Pecha září v hlavních rolích nové celovečerní komedie Jana Hřebejka a Petra Jarchovského, inspirovaných povídkami Petra Šabacha.
V kartónovém obalu.
English
Pupendo is a story about two families set against the backdrop of art and politics.
A talented artist is blacklisted by the Communist government following the Russian occupation. Since he can't live from his art and he won't take a day job, his family has to make kitschy ceramic ornaments to get by. A chance encounter with an art historian combing through a garbage can brings the artist back into contact with a former student and lover. She's more ambitious than principled and can make life easier for him in return for some gesture art. The artist can handle making a wall mosaic for her husband's school, but a hideous statue of a Russian marshal is naturally more problematic. Eventually it doesn't matter. Through the art historian, their names land on the Voice of America, and as a result, both families end up in the drink together.