DVD Každý mladý muž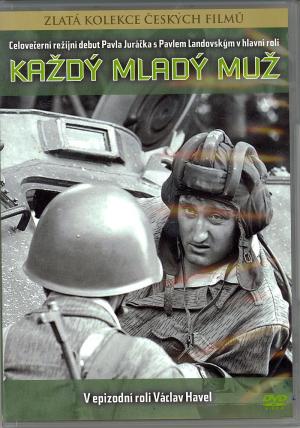 Tell a friend
CDN $26.00

(US $19.50)

CDN $10.00

(US $7.50)

Duration: 83 min.
Sub-titles: Czech
Czech
Film Pavla Juráčka s Pavlem Landovským v hlavní roli je příběhem dvou mladých mužů ve vojenských uniformách.
Námětem povídky Achillovy paty, kde se poprvé výrazně představil Pavel Landovský a v malé roli si zde zahrál i Václav Havel, je překonání zdánlivě nepřeklenutelné propasti mezi bohorovným druhoročákem a "bažantem", který za sebou nemá ještě ani přísahu. Druhá povídka Každý mladý muž je kaleidoskopem autentických vojenských zážitků, postřehů a pozorování. Mladí vojáci se musí vyrovnávat se spoustou problémů, mezi jinými i s problémy sexuálními. Žena se pro vojáky ve výcvikových prostorech stává neskutečnou, téměř vymyšlenou bytostí. Symbolem této neukojené a neukojitelné sexuální touhy je závěrečná scéna vojenské tancovačky.
English
Jurácek's feature debut is shot in two parts. In the first, a corporal accompanies a new recruit with a sore Achilles tendon for his physical, and all the girls or young women they see are played by the same actress (Ruzickova). In the longer second segment, shot with the help of the Czechoslovak army, the soldiers pass the time during basic training and maneuvers by talking about girls. At the end of their training they plan a large dance on their base with women bused in from the local village.