DVD Obsluhoval jsem anglického krále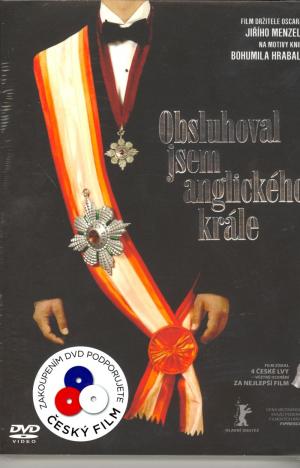 Tell a friend
CDN $15.00

(US $12.75)

CDN $5.00

(US $4.25)

Duration: 120 min.
Sub-titles: Czech
Czech
Ve vzpomínkách cestáře, žijícího v hájovně, se odvíjí příběh plný fantazie a neuvěřitelných situací.
Opět skladem za výhodnější cenu!
Film získal 4 České lvy včetně "Za nejlepší film".
Hraji: Rudolf Hrušínský ml., Naďa Konvalinková, Milan Lasica, Oldřich Vlach, Oldřich Kaiser; Jiří Lábus, Pavel Nový, Josef Abrhám, Pavel Vondruška, Petr Brukner, Marián Labuda, Petr Čtvrtníček, Václav Knop, Julia Jentsch, Jaroslav Tomsa, Jiří Knot, Ladislav Župa
English
Jiří Menzel's I Served the King of England (Czech title: Obsluhoval jsem anglického krále) is a near-masterpiece; individual scenes are stunning, the production is first-rate, the ironic life of Jan Dítě (Dítě means 'child' - and Jan is a tiny man) compelling. That the film doesn't quite come together as a cohesive whole is almost beside the point – Menzel may have not done justice to the beloved novel by Bohumil Hrabal (which I have not read), but he's molded the source material into something uniquely his own, and in the process created a film of rare beauty. The director's sixth adaptation of works by Hrabal (following Pearls of the Deep, the Oscar-winning Closely Observed Trains, Larks on a String, Short Cut, and The Snowdrop Festival) is just as good as any of them.