DVD Pusinky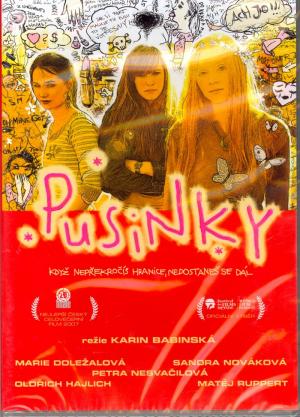 Tell a friend
CDN $32.00

(US $24.00)

CDN $15.00

(US $11.25)

Duration: 99 min.
Sub-titles: Czech and English
Czech
Iška, Karolína a Vendula se nedostaly na podělanou vejšku. Co teď ?
Děsí je představy, že by mohly skončit ve stereotypu všedního života. Naplánovaly proto super cestu – Holandsko, farma, louky, krávy, svoboda. Chtějí si pořádně užívat a občas (možná) i trochu pracovat.
Příběh boří tabu, vypráví o holkách, které nemají chuť nic předstírat a hrát si na tiché, mírné, křehké bytosti. Chtějí samy nakládat se svým životem – ne podle nějakého manuálu rodičů. Umí si prostě užívat a ledacos vyzkoušet.
English
Comedy / drama.
Iska, Karolina and Vendula weren't accepted to the university. What now? They are terrified of the stereotypes of everyday lives and plan the great escape--Holland, farms, meadows, cows, freedom. They want to live their life to the fullest and maybe even work a little. Their journey is complicated by Iskas 14-year-old brother Vojta, who wants to watch over her. And thats only the first of many complications.