DVD Všichni dobří rodáci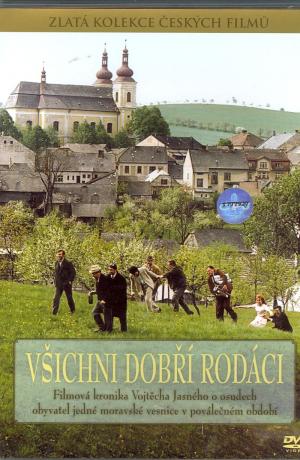 Tell a friend
CDN $25.00

(US $21.25)

CDN $10.00

(US $8.50)

Duration: 115 min.
Sub-titles: Czech
Czech
Brzobohatý, Menšík, Brodský, Matuška ve svědectví o lidech, kteří se dostali do konfliktu s krutostí poválečné doby.
Opět skladem za lepší cenu.
Film začíná v jedné malebné moravské vesnici v květnu 1945. Lidé tady prožívají nejkrásnější dny svého života, večer se všichni scházejí v hospodě U Vola při vínku a muzice, kde hlavní prim vede bezstarostný piják Zášínek. Přichází však únor 1948. Vesnice se rozděluje na dva nesmiřitelné tábory. Poklidné časy rodáků končí…
Hrají: Vlastimil Brodský, Radoslav Brzobohatý, Vladimír Menšík, Waldemar Matuška, Václav Babka, Josef Hlinomaz, Karel Augusta, Ilja Prachař, Václav Lohniský, Věra Galatíková, Helena Růžičková, Oldřich Velen, Marie Málková, Vladimír Ptáček, Eva Blažková, Svatopluk Skládal, Milan Sandhaus, Růžena Merunková, Oldřich Vykypěl, Lubomír Kostelka, Jiří Kodet, Karel Vochoč, Martin Růžek, Jiří Tomek, Jaroslava Tichá …
English
An excellent film that takes a group of villagers as allegorical characters for Czechoslovak society. The film follows these people from post-WWII (and pre- communism) to the late 50s, watching as they and their village change.