DVD Hej-rup!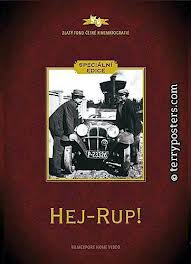 Tell a friend
CDN $24.00

(US $18.72)

CDN $10.00

(US $7.80)

Duration: 100
Sub-titles: None
Czech
Jedna z nejslavnějších filmových komedií Voskovce a Wericha.
Nezaměstnaný dělník Filip a bývalý bohatý továrník Jakub Simonides, podvodnými machinacemi svého konkurenta Worsta přivedený na mizinu, se dají dohromady a společně hledají práci. Zkoušejí to jako zahradníci, asfaltéři, stavební dělníci. Brzy však pochopí, že sami nic nezmohou, spojí se s jinými nezaměstnanými dělníky v družstvo symbolicky nazvané Hej Rup! Společnými silami si postaví obytný dům a postupně i mlékárenský podnik. Worst se novou konkurenci pokusí zničit svými obvyklými praktikami, tentokrát si však vyláme zuby…
English
Famous comedy with Werich.