DVD O věcech nadpřirozených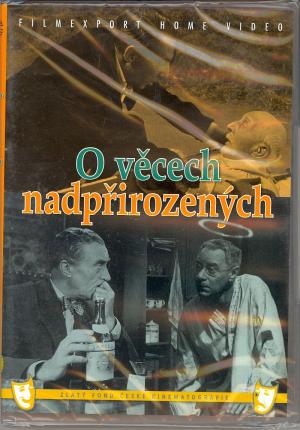 Tell a friend
CDN $28.00

(US $23.80)

CDN $15.00

(US $12.75)

Duration: 104 min.
Sub-titles: Czech and English
Czech
Pešek, Brodský, Záhorský, Deyl, Nový, Kačírková… povídky z pera Karla Čapka nás přesvědčí o tom, že ne každý dobrý skutek je oceněn a správně odměněn, a že ne vše je tak, jak to na první pohled vypadá.
Obsahuje povídky:
Glorie
divákovi ukáže, že míti svatozář nemusí být žádný med a že si občas zahřešit není vůbec na škodu.
Tajemství písma
nám odhalí, co s lidmi dokáže udělat žárlivost a že uvěřit grafologovi, byť uznávanému, není vždy to nejrozumnější.
Právní případ
Zdánlivě šťastný konec malé dopravní nehody a náhlé zmrtvýchvstání penzionovaného železničáře Bartoše dostane pana Krupa pěkně do úzkých.
Hrají: Ladislav Pešek, Vlastimil Brodský, Felix le Breux, Bohuš Záhorský, Eman Fiala, Rudolf Deyl ml., Oldřich Nový, Irena Kačírková, Jaroslav Marvan, Elena Hálková, Eduard Dubský, Miloš Kopecký, Jan Pelikán, František Filipovský, Bohuš Rendl, Darja Hajská
English
Three stories by Karel Čapek.