Lásky za časů bezčasí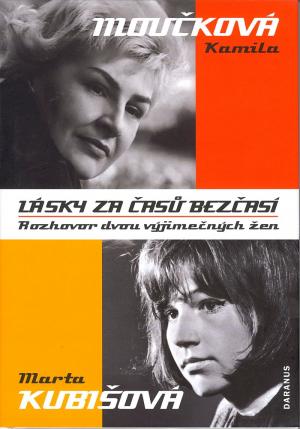 Tell a friend
CDN $25.00

(US $21.25)

CDN $19.00

(US $16.15)

182 pages

ISBN

: 978-80-86983-73-8

Publisher

: Daranus

Published Date

: 2009

Cover

: Hard Cover
Czech
Otevřený rozhovor dvou výjimečných žen: Kamila Moučková a Marta Kubišová.
Zpěvačka a televizní moderátorka, jejichž osudy se poprvé protnuly v roce 1968, kdy se statečně postavily proti okupaci naší země. Jejich tváře a hlasy se staly symbolem takzvaného Pražského jara.
V dialogu, který spolu vedou na stránkách této knihy, však zdaleka nevzpomínají jen na události oné doby a let následujících. Z velmi otevřeného rozmlouvání o práci, rodině, mužích, dětech, kolezích, zvířatech, hvězdných okamžicích i pádech na dno, o naplněných láskách i nepřebolených zklamáních vyvstává strhující životní příběh obou žen. Není v něm nouze o překvapivá a dosud nevyřčená svědectví a doznání.
English
Dialog of 'Two symbols of the Prague Spring' : Kubišová and Moučková.