Osudy dobrého vojáka Švejka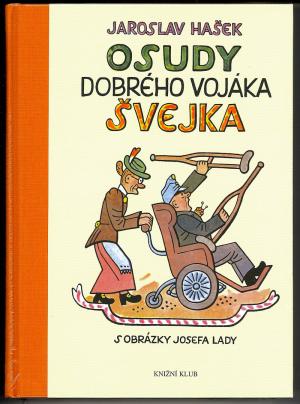 Tell a friend
CDN $40.00

(US $34.00)

CDN $35.00

(US $29.75)

653 pages

ISBN

: 978-80-242-2179-3

Publisher

: Knižní klub

Published Date

: 2008

Cover

: Hard Cover
Czech
Nejznámější a nejoblíbenější klasika české literatury s ilustracemi Josefa Lady.
Dobrý voják Švejk je jedna z nejznámějších a nejoblíbenějších postav nejen české, ale i světové literatury. Svědčí o tom spolu s četnými vydáními doma a v zahraničí také skutečnost, že se z díla stala v pravém slova smyslu klasika, která se neustále čte a cituje. Možná bychom mohli mluvit i o součásti naší národní povahy, ať už v dobrém nebo pejorativním smyslu. Švejk, hostinský Palivec, polní kurát Katz, nadporučík Lukáš, sapér Vodička, Baloun a další postavičky nadále žijí svým životem.
Desky mírně poškozené - 50% sleva!
English
Hasek's most important work was centered around the deeply funny story of a hapless Czech soldier in the Austro-Hungarian army -- dismissed for incompetence only to be pressed into service by the Russians in World War I (where he is captured by his own troops). A mischief-maker, bohemian and drunk, Hasek demonstrated his wit in this classic novel of the Czech character and preposterous nature of war.