Rodinný domácí lékař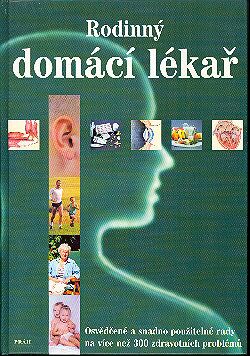 Tell a friend
CDN $50.00

(US $39.00)

CDN $30.00

(US $23.40)

350 pages

ISBN

: 80-7252-049-0

Publisher

: Práh

Published Date

: 2001

Cover

: Hard Cover
Czech
Tato velká kniha (29x21 cm) si vás získá svou přehledností a názorností. Zahrnuje všechny představitelné zdravotní problémy od úrazů a poskytování první pomoci, přes nemoci jednotlivých částí těla (oči, uši, hlava, kůže, svaly, …) a vnitřních orgánů (srdce, plíce, ledviny, játra, …) až po problémy týkající se výhradně žen, výhradně mužů a výhradně dětí.
Zabývá se také péčí o zdraví všeobecně, zdravým životním stylem a zdravými životními návyky. Každá podkapitula je členěna na: Příznaky Co můžete udělat Kdy vyhledat lékařskou pomoc Jak onemocnění předcházet Moderní medicína usiluje především o to nemocím předcházet.
Pokud se však necítíte dobře, je důležité, abyste nemoc včas rozpoznali a zahájili správnou samoléčbu nebo, ve vážnějších případech, navštívili lékaře.
English
Advice on how to care for sick people or how to give first aid.