Bratrstvo I., II, III. ANT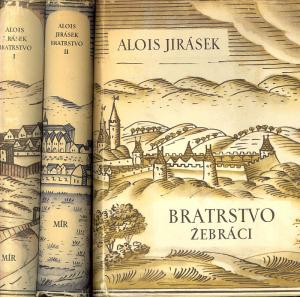 Tell a friend
CDN $25.00

(US $20.25)

CDN $20.00

(US $16.20)

1334 pages

ISBN

: 10433

Publisher

: Mír, Praha

Published Date

: 1951

Cover

: Hard Cover
Czech
Ilustroval: ADOLF KAŠPAR
Tři velké knihy.
Bratrstvo je třídílná kniha Aloise Jiráska z období husitství: I. Bitva u Lučnice, II. Mária, III. Žebráci.
Děj se nyní odehrává na Slovensku. Husitství sice zažívá velký rozmach, ale nemá s původním táborským vzorem moc společného. Ačkoliv hlavní hrdinové mají kladné vlastnosti typické pro Žižkovy bojovníky – odvahu, čest a ochotu vždy hájit boží pravdu, setkáváme se u nich rovněž s mnohými zápornými rysy. Většina z nich holduje častému pití a války jsou pro ně vším. Neumí nic jiného než bojovat a to nejen bránit své území, ale také přepadat a loupit.
Jirásek tento úpadek velmi pečlivě popisuje a trilogii dovede až do doby, kdy Bratrstvo zaniká. Valná část žoldnéřů padne a kdo ne, žene se dále za kořistí. Vojáci už neslouží "vyšším cílům" jako původní husité, ale putují pouze tam, kde dostanou větší žold.
Kondice: velmi dobrá.
English
Three books. Historical novel from the time of the Hussite wars.