Pražský hřbitov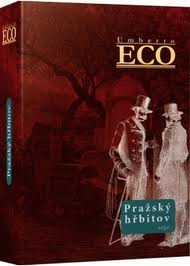 Tell a friend
CDN $36.00

(US $28.80)

CDN $25.00

(US $20.00)

472 pages

ISBN

: 978-80-257-0487-5

Publisher

: Argo

Published Date

: 2011

Cover

: Hard Cover
Czech
V románu proslulého autora se silný příběh s detektivní zápletkou prolíná s literaturou faktu. 472 stran.
Ve svém bytě v nevábné pařížské čtvrti se v březnu 1897 probouzí starší muž a snaží se rozpomenout, kdo vlastně je. Metodou doktora Freuda, se kterým párkrát pojedl, si začíná vybavovat vlastní minulost italského a později francouzského policejního konfidenta, autora fiktivního konspiračního plánu, který pak v rukou jiných začal žít vlastním životem. Téměř všechny postavy (např. Alexandre Dumas) jsou historické, neméně skutečný je i hrdinou sepsaný pamflet.
English
Mystery - Book of the year 2011.