Setkání v Torontu, s vraždou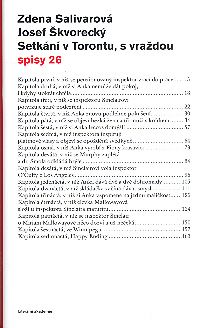 Tell a friend
CDN $23.00

(US $17.94)

CDN $15.00

(US $11.70)

164 pages

ISBN

: 80-86877-22-1

Publisher

: Literární akademie

Published Date

: 2006

Cover

: Hard Cover
Czech
Setkání v Torontu, s vraždou je už šestým příběhem hraběnky Anny Lomnické, majitelky kadeřnického salónu v Torontu, která podobně jako všichni vyhlášení hrdinové detektivní literatury stále přitahuje nejen zločin, ale také inspektora Kanadské jízdní policie Harolda Sinclaira.
Podobně jako v minulých pěti příbězích zkušené autorské dvojice Zdeny Salivarové a Josefa Škvoreckého, které vydalo v letech 1999-2004 nakladatelství Ivo Železný, i v tomto nejnovějším pokračování stopy přivedou osobitou dvojici detektivů i nás, čtenáře do společnosti torontských Čechů. Oproti předchozím dílům série se v tomto šestém jako vypravěči střídají jen hraběnka Anna a reaktivovaný důchodce, inspektor Sinclair, takže příběh kromě nezbytné detektivní zápletky nabízí i nepřímý dialog mezi oběma hrdiny. Ani vyšší věk neubral ve vztahu hraběnky a detektiva nic z dlouholetého citového jiskření a příjemného napětí.
English
Detective story that will take the readers into the company of Czechs living in Toronto.