Smrt má kola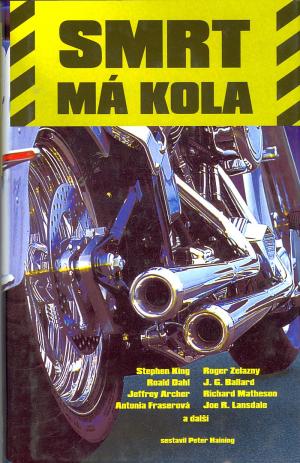 Tell a friend
CDN $12.00

(US $10.20)

CDN $5.00

(US $4.25)

267 pages

ISBN

: 80-86132-64-1

Publisher

: Knižní expres

Published Date

: 2002

Cover

: Hard Cover
Czech
Usedněte na místo spolujezdce a vydejte se s námi do říše napětí a tajemna. Za volantem sedí vyhlášení mistři literární hrůzy. Připoutejte se a dobře se držte!
Obsahuje povídky:
* Stephen King - Kamiony (Trucks)
* E. F. Benson - Mračno prachu (The Dust Cloud)
* Jack Finney - Druhá šance (Second Chance)
* H. Russel Wakefield - Vůz z druhé ruky (Used Car)
* Richard Matheson - Souboj (Duel)
* Antonia Fraserová - Kdopak to seděl v mém autíčku? (Who's Been Sitting in My Car?)
* Joe R. Landsdale - Ten není z Detroitu (Not From Detroit)
* Jeffrey Archer - Nikdy nezastavujte na dálnici (Never Stop on the Motorway)
* Peter Haining - Auto smrti (The Death Car)
* Mary Elizabeth Counselmanová - Noční soud (Night Court)
* Ramsey Campbell - Úsek častých nehod (Accident Zone)
* Alan Dean Foster - Poslední závod (The Last Run)
* Roald Dahl - Stopař (The Hitch-Hiker)
* J. G. Ballard - Srážka (Crash)
* Ib Melchior - Jezdec (The Racer)
* Harlan Ellison - Roztomilá projížďka (Along the Scenic Route)
* Roger Zelazny - Autodafé (Auto-da-Fé)
* William F. Nolan - Přestupek (Violation)
* Ian Watson - Tvá krev jest jako mléko (Thy Blood Like Milk)
English
Book of suspense stories.