Češi 1992 - Jak Mečiar s Klausem rozdělili stát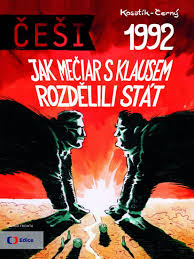 Tell a friend
CDN $25.00

(US $17.50)

CDN $12.00

(US $8.40)

96 pages

ISBN

: 978-80-204-3500-2

Publisher

: Mladá fronta

Published Date

: 2015

Cover

: Soft Cover
Czech
Unikátní kprojekt o nejdůležitějších momentech novodobé české historie pokračuje.
Když v listopadu 1989 lidé na náměstích zvonili klíči, asi nikoho nenapadlo, že jedním z prvních velkých výsledků revoluce bude rozpad společného státu.
Co ho vlastně drželo pohromadě, pokud ho rozložila svoboda? A jak k tomu rozpadu došlo, když nakonec tolik lidí na obou stranách zaskočil? Češi to zažili na vlastní kůži v roce 1918, a v letech 1989–1992 jim to historie s jejich slovenskými bratry zlomyslně zopakovala.
Komiks.