Cesta na severozápad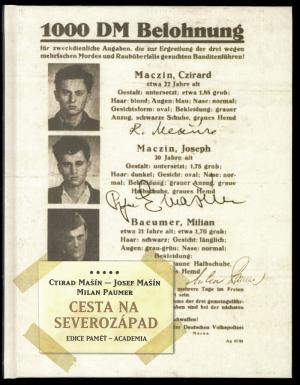 Tell a friend
CDN $45.00

(US $35.10)

CDN $29.00

(US $22.62)

392 pages

ISBN

: 978-80-200-1830-4

Publisher

: Academia

Published Date

: 2010

Cover

: Hard Cover
Czech
Na konci padesátých let bratři Mašínové a Milan Paumer popsali svou dramatickou cestu do Západního Berlína, kterou na podzim 1953 podnikli společně se svými dvěma přáteli (Zbyněk Janata a Václav Švéda však byli po přestřelkách zatčeni a později popraveni). Teprve po padesáti letech se čtenáři mohou sami seznámit s autentickými vzpomínkami osob, jejichž jména se stala symbolem ozbrojeného odporu proti komunistickému režimu v Československu.
Vydaný rukopis je nejen jejich cenným svědectvím, ale rovněž strhujícím literárním dílem i pozoruhodným dobovým dokumentem. Je doplněn historickou studií o postavení skupiny bratří Mašínů v rámci protikomunistického odboje v Československu a stručným doslovem, v němž je popsán právní kontext její činnosti.
Součástí publikace je rozsáhlá obrazová příloha, v níž jsou většinou poprvé publikovány dobové fotografie a kopie archivních dokumentů.
English
The dramatic trip of Mašín brothers to Berlin is described in this powerful documentary.