Druhá světová válka 1939-1945 na vlastní oči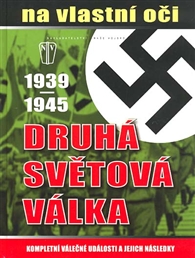 Tell a friend
CDN $35.00

(US $29.75)

CDN $20.00

(US $17.00)

280 pages

ISBN

: 978-80-206-1085-0

Publisher

: Naše vojsko

Published Date

: 2010

Cover

: Hard Cover
Czech
Desítky svědectví přímých účastníků druhé světové války. Kompletní válečné události a jejich následky.
Očití svědkové, ať už bojovníci nebo civilisté, vzpomínají na to, co zažili na vlastní kůži. Jejich svědectví pokrývají veškerá bojiště druhé světové války, od jejích počátků až do konce.
Kniha je doplněna chronologickými přehledy událostí a medailonky zachycujícími klíčové momenty a osobnosti i stručná vysvětlení příčin a důsledků největšího konfliktu v dějinách lidstva.
Přináší též 470 nepublikovaných fotografií.
English
The Second World War 1939-1945 pictorial narrative charts scariest conflict in human history through the testimony of direct participants - soldiers or civilians. The book contains many previously unpublished period photographs, a chronological list of events and medallions depicting key moments and personalities.