Dějiny českého udatného národa a pár bezvýznamných světových událostí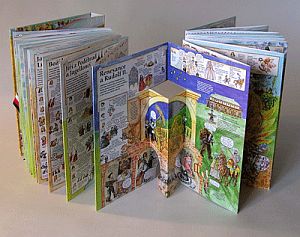 Tell a friend
CDN $48.00

(US $40.80)

CDN $30.00

(US $25.50)

23 pages

ISBN

: 80-239-0886-3

Publisher

: Petr Prchal

Published Date

: 2002

Cover

: Hard Cover
Czech
Lovce mamutů, věrozvěsty Cyrila a Metoděje, Přemyslovce i husitské války, exil Jana Amose Komenského i vznik Československé republiky - to vše zachytila ilustrátorka Lucie Seifertová ve svých Dějinách udatného českého národa.
Kniha získala řadu ocenění. S velkým úspěchem byla předvedena v Národním muzeu v Praze a nyní zahájila svou několikaletou cestu po Spojených státech. Po vernisáži na českém velvyslanectví ve Washingtonu, která byla součástí oslav státního svátku 28. října, zamíří například do New Yorku, New Orleans, Houstonu nebo do Chicaga. Velký zájem o ní mají i naši krajané v Texasu a v Nebrasce.
Českou verzi výstavy vidělo dosud na čtvrt milionu diváků. Už sám název knihy Dějiny udatného českého národa a pár bezvýznamných světových událostí naznačuje, že autorka českou historii představuje s nadsázkou, humorem i trochou ironie. ..more info from the author
English
44 huge pages depicting 2,500 years of the history of the Czech Lands.