Lexikon historických míst Čech, Moravy a Slezska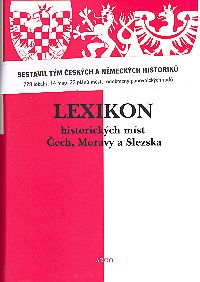 Tell a friend
CDN $40.00

(US $31.20)

CDN $19.00

(US $14.82)

812 pages

ISBN

: 80-7203-402-2

Publisher

: Argo

Published Date

: 2001

Cover

: Hard Cover
Czech
V jediném obrovském svazku čtenář získá přehled o 728 "historických" lokalitách, o základních směrech vývoje českých zemí, o řadě významných osobností či důležitých pojmech.
Zároveň je text doplněn četnými mapkami, rodokmeny, obsáhlým seznamem literatury a rejstříkem, které přispívají k jeho přehlednosti.
Čtenáři se tak dostává do rukou publikace, s jejíž pomocí se bude moci rychle a snadno zorientovat, "co kde v českých zemích je", popř. jaký byl vývoj jednotlivých lokalit v minulosti.
English
Lexicon of 728 historical places, people and concepts.