Strážci pražských ulic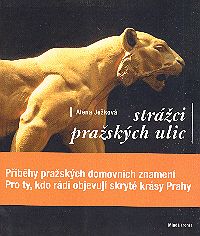 Tell a friend
CDN $30.00

(US $24.00)

CDN $15.00

(US $12.00)

226 pages

ISBN

: 80-204-1544-0

Publisher

: Mladá fronta

Published Date

: 2006

Cover

: Hard Cover
Czech
Mystický svět mnoha desítek pražských domovních znamení, která v podobě kamenných či štukových symbolů zdobí historické domy staré Prahy.
Znamení jsou spjaty s historií domů, s pověstmi i s osobnostmi, které v nich žily nebo je navštěvovaly.
Strážci pražských ulic jsou otevřenými dveřmi do světa podivuhodné historie Prahy a její kultury, literatury, zábavy i řemesel, i do světa současného, v němž jsou dosud domovní znamení laskavými strážci našich kroků.
Kniha je téměř na každé stránce vybavena barevnými fotografiemi Jiřího Šusty, prostřednictvím kterých můžeme obdivovat krásu detailů středověké řemeslné práce.
English
Book of photographs about emblems that decorate old houses in Prague.