Římská madona Lucrezia Borgia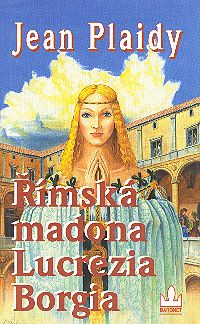 Tell a friend
CDN $22.00

(US $16.50)

CDN $10.00

(US $7.50)

314 pages

ISBN

: 80-7214-568-1

Publisher

: Baronet

Published Date

: 2003

Cover

: Hard Cover
Czech
První díl historické ságy o dětství a mládí Lucrezie z rodu Borgiů.
Borgiové byli původně španělský šlechtický rod, o němž existují záznamy už ze 13. století z Valencie. Alfons Borgia se stal valencijským arcibiskupem, roku 1444 kardinálem a o jedenáct let později dokonce usedl na papežský stolec pod jménem Kalixt III. Jeho synovec Rodrigo ho ve skvělé církevní kariéře následoval a roku 1492 se stal papežem Alexandrem VI. Do dějin však vstoupila také Alfonsova dcera Lucrezia žijící v letech 1480 - 1519.
English
Part one of a historical saga - childhood and young age of Lucrezie.