Já to vidím jinak, miláčku!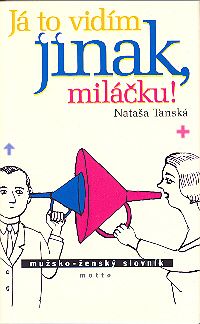 Tell a friend
CDN $15.00

(US $11.70)

CDN $0.00

(US $0.00)

107 pages

ISBN

: 80-7246-151-6

Publisher

: Motto

Published Date

: 2004

Cover

: Hard Cover
Czech
Najdeme-li si partnera, můžeme už při první nevinné bouřce zjistit, že každý z nás mluví jinou řečí.
Kdo z nás nechtěl už někdy vykřiknout: "Ty mě prostě nechápeš!" Někdy jako bychom zkrátka potřebovali slovník, abychom rozuměli tomu, co nám náš partner říká. A právě takovým slovníkem je kniha. S humorem a nadsázkou vám prozradí, jak rozdílně rozumějí muži a ženy pojmům, jako je nevěra, epizoda, flirt, in flagranti, impotence, láska, nevěstinec.
English
Humorous book about how men and women understand certain things differently.