Sestřička Carrie USED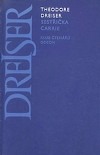 Tell a friend
CDN $5.00

(US $4.25)

CDN $0.00

(US $0.00)

480 pages

ISBN

: 01-047-79

Publisher

: Odeon

Published Date

: 1979

Cover

: Hard Cover
Czech
Realistický román, první velké dílo významného amerického spisovatele, líčí život v Chicagu a New Yorku koncem 19. století. Těžištěm románu jsou realistické scény ze života různých společenských vrstev velkoměsta.
Jeho dějovou osou je životní příběh dívky, sestřičky Carrie, která přijíždí z maloměstského prostředí do Chicaga za lepším životem. Těžce si vydělává na živobytí a znechucena dřinou se stává milenkou obchodního agenta Droueta a poté jeho ředitele Hurstwooda, s nímž odjíždí do New Yorku. Dvojice tu však žije ve stísněných poměrech a nakonec se rozchází. Hurstwood upadá společensky a hyne jako žebrák, kdežto Carrie se stává slavnou herečkou, dosahuje bohatství, štěstí však nenalézá.
Kondice: zachovalá.
English
A realistic story following a small town girl through her relationships and her climb through the social ladder as she moves to bigger cities.
In good condition.