Život je změna a změna je život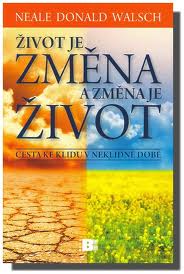 Tell a friend
CDN $28.00

(US $21.00)

CDN $15.00

(US $11.25)

264 pages

ISBN

: 9788073064723

Publisher

: Beta

Published Date

: 2011

Cover

: Hard Cover
Czech
Rozpadá se vám půda pod nohama nebo se tak alespoň cítíte? Něco hodně důležitého se ve vašem životě změnilo a nevíte, jak se s tím vším vypořádat? Ztratili jste partnera, práci, zdraví, jistotu…?
Člověk má v životě jedinou jistotu: Nic není jisté a všechno se neustále mění. A přesto se změn bojíme a snažíme se za každou cenu udržet setrvalý stav věcí. Když to nejde, jsme zoufalí.
Kniha nás učí jak přijímat změny tak, aby byly k našemu prospěchu anebo abychom se jim uměli alespoň přizpůsobit a aby to tak moc nebolelo…
Walsch vysvětluje, že každá změna může být přínosná, pokud člověk ví, jak ji využít – nemusíme být pasivní, můžeme žít velmi aktivně a se změnou spolupracovat.