CD Souhvězdí lásky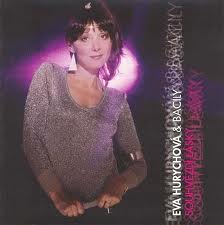 Tell a friend
CDN $15.00

(US $11.70)

CDN $5.00

(US $3.90)

Duration: 79:19
Czech
Eva Hurychová: Řekla jsem NE tyranovi!
Bezvadné nové CD.
Po deseti letech vychází nové album Evy Hurychové nazvané Souhvězdí lásky. Album obsahuje dvacet písní, které Eva natočila v osmdesátých letech se skupinou Bacily.
Poprvé na CD tak vychází celé její tehdejší debutové elpíčko Dnes na tom záleží, ale i singly jako Jdu s módou nebo Samolepa Lýdie. Jako bonus jsou na disku i tři Eviny nové písně – autorské skladby Mám pro tebe dárek a duet s Marcelou Kyselovou Kdo to vzdává, nevyhrává, který už přes dva měsíce boduje v hitparádě Česká 12 na Českém rozhlasu 1 Radiožurnálu. Třetí novinkou, která album slibně zakončuje je cover verze Evina dávného hitu Já přijdu, nazpívaná tentokrát s Robertem N. Původní singlová verze Já přijdu s Bacily a Honzou Neckářem zase celé album otevírá a dochází tak ke srovnání obou písní mezi jejichž natočením uplynulo málem čtvrt století.
1. Já přijdu - poslechněte si ukázku!
2. Souhvězdí lásky
3. Má sestra Helga
4. Jdu s módou
5. To chce mít svůj systém
6. Samolepa Lýdie
7. Za mléčnou dráhou
8. Dnes na tom záleží
9. Hifi
10. Poušť
11. Vitamín C
12. Chtěla bych být robotem
13. Elektra
14. Mimozemšťan
15. Hraju lacros
16. Chci víc
17. Péťo, čau
18. To mám špatný román
19. Nepospíchej do neštěstí
20. Já to zkrátím
Bonus
21. Kdo to vzdává, nevyhrává
22. Mám pro tebe dárek
23. Já přijdu 2006
English
Awesome new CD with modern Czech music.