CD The Broadway Album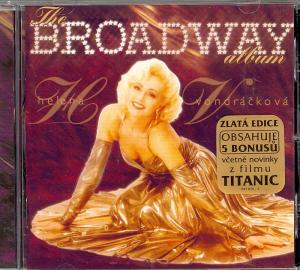 Tell a friend
CDN $18.00

(US $13.50)

CDN $0.00

(US $0.00)

Duration: 60 min
Czech
Helena Vondráčková, Karel Gott a další…
Zdarma!
1. Ach Jé, To Bude Náramný [From My Fair Lady]
2. Vzpomínky [From Cats]
3. Knížka Snů [From Les Misérables]
4. Song Hrál Nám Ten Dábel Saxofon, Karel Gott
5. Snad Přijde I Klaun [From A Little Night Music]
6. Neplač Pro Mne, Argentino [Don't Cry for Me Argentina]
7. Tichý Kout [From West Side Story]
8. New York, New York
9. Lidé [From Funny Girl]
10. Má Se Mlčet [All I Ask of You]
11. Proč Ho Tak Ráda Mám [Can't Help Lovin Dat Man]
12. Těch Pár Dnů [From Goya]
13. Já, Máří Magdaléna [from Jesus Christ Superstar]
14. Tou Modrou Klenbou [From The Wizard of Oz]
15. Co Všem Skrývá Klaun [From The Way We Were]
16. Málem [From Bodyguard]
17. Elegance [From Hello, Dolly]
18. Lásko Má, Já Stůňu [From Noc Na Karlstejne]
19. Za Mléčnou Dráhou [From Hair]
20. Stín Nás Dvou (My Heart Will Go On) [From Titanic]
English
20 Broadway hits by Helena Vondráčková and Karel Gott.