DVD DAŘBUJÁN A PANDRHOLA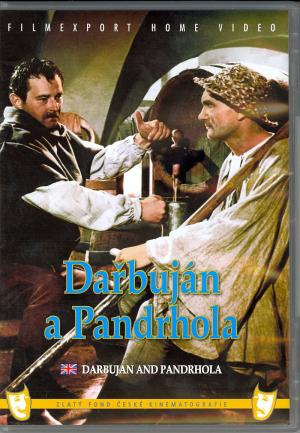 Tell a friend
CDN $32.00

(US $24.00)

CDN $15.00

(US $11.25)

Duration: 80 min.
Sub-titles: Czech and English
Czech
Hrušínský, Sovák, Neumann, Hlinomaz v kouzelné pohádkové komedii o tom, jak Kuba Dařbuján léčil - jak vyhnal ze světa smrt, co z toho pošlo a jak to nakonec dopadlo.
Havíři Kubovi a jeho ženě Markýtce přinesla vrána dvanácté dítě. Havířina nenese a proto jde Kuba poprosit bohatého sládka Pandrholu o trochu jídla pro hladové děti, ale ten ho odmítne. Kuba hledá kmotra pro své dítě. Odmítne Pánaboha i čerta, protože je považuje za nespravedlivé vůči chudým lidem a vybere Smrťáka. S jeho pomocí se Kuba stane zázračným doktorem. Od bohatých si nechá platit a chudé léčí zdarma. Když onemocní Pandrhola, Kuba ho nechce léčit. Vymyslí si nesmyslné úkoly a když je sládek splní, vyléčí ho i přes Smrťákův zákaz. Sládek nechá Smrťáka zavřít do sudu a lidé, ani zvířata nemohou zemřít….
Hrají: Rudolf Hrušínský, Jiří Sovák, Běla Jurdová, Pavla Maršálková, Bohumil Švarc, Květa Fialová, Václav Lohniský, Bohuš Záhorský, Otakar Brousek st., Stanislav Neumann, Josef Hlinomaz, Ilona Kubásková
English
Beautiful and smart tale about cheating death.