DVD Kopytem sem, kopytem tam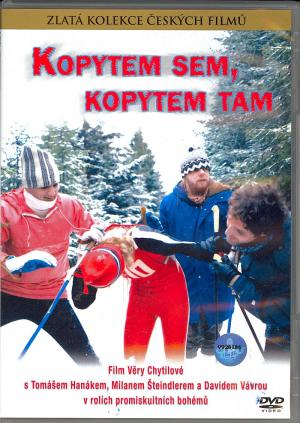 Tell a friend
CDN $29.00

(US $23.20)

CDN $15.00

(US $12.00)

Duration: 129 min.
Sub-titles: Czech
Czech
Emocionální, výborně hraný příběh o třech sympatických třicátnících, kteří si vesele užívají života.
Láska je pro ně sex, střídání partnerek. Dokud nepřijdou na to, že jejich jednání přináší následky…
Režisérka Věra Chytilová tímto snímkem opět potvrdila, že dokáže mimořádně bystře "vyhmátnout" nejsilnější a nejnosnější impulsy doby a použít je díky filmovému vidění pro překvapující umělecké dílo.
Hrají: Milaan Šteindler, Tomáš Hanák, David Vávra…
English
Three friends have sex just for fun. One day they make a blood test, just for fun, and they discover that one of them has AIDS, not knowing who...