DVD Hana Hegerová Koncert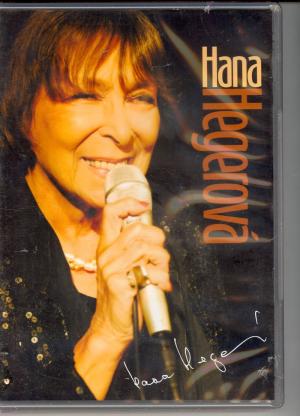 Tell a friend
CDN $28.00

(US $21.84)

CDN $18.00

(US $14.04)

Duration: 110 min.
Sub-titles: None
Czech
Nádherné DVD!
Záznam ze dvou koncertů, provázený dojímavým komentářem zpěvačky, je plný hudby, úsměvů a emocí.
Ve dnech 9. a 10.října 2006 se uskutečnily v Moravském divadle v Olomouci dva koncerty paní Hany Hegerové, které se staly základem připravovaného, historicky prvního DVD zpěvačky a zároveň i live CD z těchto koncertů.
Hana Hegerová - zpěvačka, kterou zahraniční kritici nazývali velkou dámou šansonu, Piaf z Prahy či šansoniérkou se slovanskou duší, oslavila své 75.narozeniny tak, jak je již tradicí, koncerty v několika českých a moravských městech. A dva z nich byly natočeny, aby strhující atmosféra koncertů této výjimečné hudební osobnosti zůstala zaznamenána.
01/ Úvodní medley
02/ Já ráda vzpomínám PETR HAPKA / PAVEL KOPTA
03/ Bože můj, já chci zpět (Ma jeunesse fout l'camp) GUY ALFRED BONTEMPELLI / ČESKÝ TEXT: PAVEL ŽÁK
04/ Co mi dáš (Les Feuilles Mortes) JOSEPH KOSMA / JACQUES PRÉVERT – ČESKÝ TEXT: PAVEL ŽÁK
05/ Blues o stabilitě JIŘÍ ŠLITR / JIŘÍ SUCHÝ
06/ Denim Blue PETR HAPKA / MICHAL HORÁČEK
07/ Cesta RUSKÁ ĽUDOVÁ – ÚPRAVA: ZDENĚK FIŠER
08/ Levandulová PETR HAPKA / MICHAL HORÁČEK
09/ (I Love You) For Sentimental Reason WILLIAM BEST/DEEK WATSON
10/ The Man I Love GEORGE GERSHWIN / IRA GERSHWIN
11/ Černá Jessie JIŘÍ ŠLITR / PAVEL KOPTA
12/ Svatební píseň PETR HAPKA / JAROSLAV SEIFERT
13/ Šťastné slunce (Lucky Old Sun) TRADITIONAL / ČESKÝ TEXT: JAR. VOMÁČKA
14/ Lásko prokletá (Ne me quitte pas) JACQUES BREL / ČESKÝ TEXT: PAVEL KOPTA
15/ Lásko má (Chanson des vieux amants) JACQUES BREL /GERARD JOUANNEST – ČESKÝ TEXT: PAVEL KOPTA
16/ Mapa lásky (Carte du tendre) GEORGI MOUSTAKI / ČESKÝ TEXT: PAVEL KOPTA
17/ Čím dál tím víc (Fuerza del amor) LUIS AGUILE / ČESKÝ TEXT: ZDENĚK RYTÍŘ
18/ Potměšilý host PETR HAPKA / MICHAL HORÁČEK
19/ Čerešně JAROSLAV FILIP / MILAN LASICA
English
This concert with Hana Hegerová is excellent.