DVD Starci na chmelu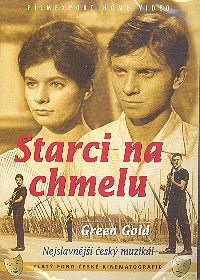 Tell a friend
CDN $10.00

(US $7.80)

CDN $5.00

(US $3.90)

Duration: 88 min.
Sub-titles: None
Czech
"Ten příběh, který uvidíte a co tak divně začíná, ten mohlo prožít vaše dítě, ať chce či nechce rodina… Ten může prožít vaše dítě a nikoli jen na chmelu a když se nad ním zamyslíte, dosáhl svého účelu."
Tímto nápěvem začíná film, který není třeba nijak představovat. Příběh lásky, která vznikla ke zděšení okolí na chmelové brigádě, patří mezi nejoblíbenější české filmy také díky skvělým písničkám, které zpívají Karel Gott, Josef Zíma, Jana Petrů, Karel Štědrý a Jana Malknechtová.
Tak tohle DVD je vyloženou pochoutkou pro DVD labužníka. Ale samozřejmě nejen pro něho, vždyť tento muzikál Vratislava Blažka a Ladislava Rychmana s romantickým příběhem mladé lásky na chmelové brigádě okouzlil diváky mnoha generací. V hlavních rolích slavnými písničkami nabitém filmu uvidíme Vladimíra Pucholta, Ivanu Pavlovou (jejíž kariéru baletky ukončila nehoda), Irenu Kačírkovou, Josefa Kemra…
V kartónu.

English
Love story with great music by Gott, Zíma, and others.