DVD: 3x 60. léta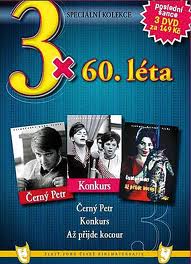 Tell a friend
CDN $29.00

(US $23.49)

CDN $14.00

(US $11.34)

Duration: 265 min.
Sub-titles: Czech
Czech
3 ČESKÉ FILMY: Černý Petr + Konkurs + Až přijde kocour
Černý Petr
Několik dnů ze života šestnáctiletého Petra, který je na učňovské praxi v samoobsluze potravin. Nechápe smysl své práce ani otcovy výchovné lekce.
Konkurs
Povídky Kdyby ty muziky nebyly a Konkurs pojí společné téma, kterým je hudba v různých podobách a stejně tak různí lidé kolem ní. V prvním příběhu kralují dechové hudby a jejich touha uspět na přehlídce Kmochův Kolín. Druhá povídka je přehlídkou falešných i talentovaných hlasů, které se snaží uspět při výběru nových tváří pro divadlo Semafor, v jehož autentických prostorách se povídka i natáčela.
Až přijde kocour
Do malého městečka, skrývajícího své malé hříšníky, nepravosti a pokrytectví pod maskou poklidné všednodenností, přijel cirkus, který měl s sebou neobyčejného kocoura. "Ten kocour měl něco, co žádný jiný kocour na světě nemá - brejličky. Kdyby se kocour díval bez brejliček, pod jeho pohledem by se lidé zbarvili podle povah a skutků svých." Jak se s tím vším lidé v městečku vyrovnali, když se to doopravdy stalo, uvidíte sami…
Puchold, Brodský, Effa, Werich, Sovák, Bohdalová…
English
3 movies from the sixties.