DVD Slovácko sa nesúdí - seriál - 6 DVD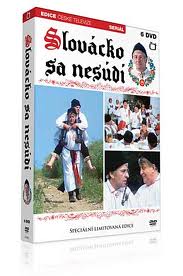 Tell a friend
CDN $95.00

(US $74.10)

CDN $75.00

(US $58.50)

Duration: 372 min.
Sub-titles: Czech
Czech
Seriál plný moudrosti, dobré nálady a radostných písniček z Moravského Slovácka.
Co vznikne, když smícháte trochu fištrónu, špetku slivovičky na kuráž a pořádnou dávku lidové moudrosti …
Tento humorný seriál byl natáčen v letech 1975 a 1984. Odehrává se v prostředí moravského Slovácka. Hlavními hrdiny jsou stařeček Matúš Pagáč v podání Jozefa Krónera a Jura Klásek v podání Oldřicha Velena. Dvanáctidílný seriál popisuje život slovácké vesnice počátkem dvacátého století. S úsměvem a z dnešního pohledu i s jakousi nostalgií ukázal, že závist, malost, netolerance a hloupost, byly mezi lidmi rozšířeny od nepaměti.
A že moudrost, humor a laskavý přístup k životu mnohé vyřeší.
12 dílů: Parohy, Polénko, Nadílka, Hody, Divadlo, Medicína, Zabijačka, Medvěd, Hlt za tři krejcary, Janek Vyskoč, Kozí vrah, Odplata, Poslední vůle.
English
Czech series full of humor and great music.