"Ústně více" - Šestatřicátníci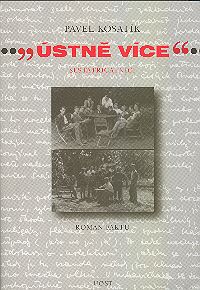 Tell a friend
CDN $33.00

(US $25.74)

CDN $20.00

(US $15.60)

320 pages

ISBN

: 80-7294-192-5

Publisher

: Host

Published Date

: 2006

Cover

: Hard Cover
Czech
Kniha zachycuje existenci skupiny Šestatřicátníků od její prehistorie na počátku padesátých let přes "slavná léta" jejích členů v letech padesátých a šedesátých až po (nyní už jen individuální, neboť skupina jako kolektiv zanikla) biografie členů v letech pozdějších.
Na počátku skoro žádný z Šestatřicátníků neměl naději na zajímavou budoucnost; ta se však přesto dostavila, u každého v jiné, vždycky však ve vyhraněně tvůrčí podobě. Co to v člověku je, co mu ve šťastných případech dovolí "zvítězit" nad poměry? Faktograficky bohatá kniha je příběhem mládí, příběhem tvorby a uceleným obrazem jedné významné a dosud nepříliš známé výseče našeho kulturního života v rozmezí padesáti poválečných let.
English
Book full of facts about a group of people about 50 years after war.