Divnopis Proč se to tak jmenuje?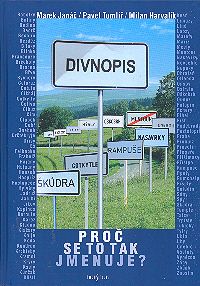 Tell a friend
CDN $25.00

(US $18.75)

CDN $5.00

(US $3.75)

214 pages

ISBN

: 80-86212-47-5

Publisher

: Radioservis

Published Date

: 2006

Cover

: Hard Cover
Czech
Víte, kde se vzaly názvy Praha, Bedlno, Cotkytle, Eš, Knije, Lobzy, Oškobrh, Rumchalpa, Ublo, Zbůch? To zjišoval nesmírně zajímavý a populární rozhlasový seriál, mapující historii a současný život v místech s podobně malebnými názvy. Obrovský úspěch projektu přiměl jeho autory převést rozhlasovou verzi do knižní podoby, která obsahuje kromě 101 reportážních portrétů českých a moravských vesnic a měst bohatou fotografickou dokumentaci. U jména každé obce je upřesnění, kde leží, první písemný doklad existence, výskyty jména již zaniklých obcí, výklad původu názvu (vysvětlen jak z historického pohledu, tak jazykově i v místních pověstech), pamětihodnosti obce a jejího okolí.
English
Book about the origins of some funny Czech place-names.