Tam za tou duhou ...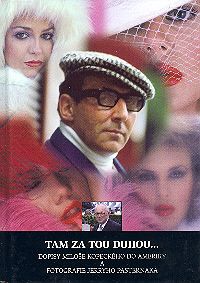 Tell a friend
CDN $25.00

(US $19.50)

100 pages

ISBN

: 80-86171-21-3

Publisher

: Chagall

Published Date

: 2004

Cover

: Hard Cover
Czech
ZDARMA S OBJEDNÁVKOU!
Dopisy Miloše Kopeckého do Ameriky a fotografie Jerryho Pasternaka.
Díky ní lze nahlédnout tak trochu do soukromí a do minulosti dvou přátel a zároveň dvou výrazných uměleckých individualit - herce Miloše Kopeckého a jeho přítele, fotografa Jerry Pasternaka, jejichž osudy se v jednom okamžiku setkaly a pak zase rozdělily, i když nikdy ne tak docela. Přátelské pouto bylo natolik silné, že je nemohla přemoci ani vzdálenost, ani dlouhý čas odloučení.
English
Story about a friendship between the actor M. Kopecky and the photographer J. Pasternak.