Žízeň po životě Used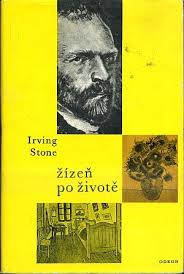 Tell a friend
CDN $10.00

(US $7.50)

CDN $5.00

(US $3.75)

510 pages

ISBN

: 12064

Publisher

: Státní nakladatelství krásné literatury, hudby a umění

Published Date

: 1968

Cover

: Hard Cover
Czech
Historický román s obrazy V.V. Gogha.
Za pouhých deset let, do nichž se vejde celá umělecká dráha malíře, který nemohl tušit, že se stane velikánem moderního malířství, vytvořil Vincent van Gogh 750 obrazů a 1600 kreseb. Nevydělal na nich téměř nic, celý život jej finančně i morálně podporoval ne o mnoho existenčně zajištěnější, avšak oddaný bratr Theo. O jeho obrazy dnes na aukcích svádějí boje japonští investoři s americkými průmyslovými magnáty a vydávají za ně desetimiliónové dolarové částky. Jejich autor se ve vrcholící deziluzi, nedůvěře v sebe sama a na pokraji šílenství zastřelil. Neúspěšně. Dva dny pak umíral v nemocnici.
Kondice: velmi dobrá.
English
Historical novel about the life of Vincent Van Gogh. Paintings throughout the book.