Zápisky z válek a katastrof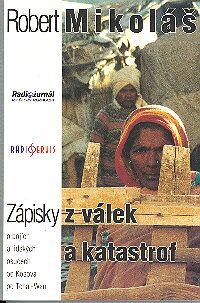 Tell a friend
CDN $15.00

(US $12.75)

CDN $5.00

(US $4.25)

157 pages

ISBN

: 80-86212-33-5

Publisher

: Radioservis

Published Date

: 2003

Cover

: Paperback
Czech
O bojích a lidských osudech od Kosova po Tchai-Wan.
Autor je zahraničním zpravodajem Radiožurnálu. Jeho nová kniha vypráví o dramatech na přelomu 20. a 21. století. Seznamuje nás s lidmi, kteří čelili tragédiím způsobeným politickou zvůlí či fanatismem stejně jako krutostí přírody. Autor jejich osudy nahlíží bez politické a ideologické předpojatosti, nikoli ale nezúčastněně. Vypráví o tom, co viděl a slyšel, i jak ona lidská dramata spoluprožívá …
English
Book about fights and fates of people from Kosovo to Tchai-Wan.