Báječná léta s Klausem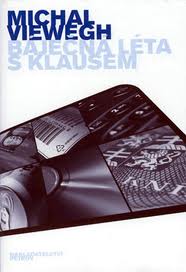 Tell a friend
CDN $22.00

(US $17.60)

CDN $10.00

(US $8.00)

213 pages

ISBN

: 7426

Publisher

: Petrov

Published Date

: 2002

Cover

: Hard Cover
Czech
Autobiografický román rozptýlí chmury a zlepší náladu všem, kdo nejsou ortodoxními vyznavači Václava Klause bez špetky smyslu pro humor a realitu.
Viewegh popisuje příběhy jednotlivých členů Kvidovy rodiny, jak je ve volné návaznosti na Báječná léta pod psa zažívají po sametové revoluci. Každou kapitolu uvádí citát Klausových perliček z knihy Jany Klusákové Narovinu, přičemž následný příběh odhaluje nabubřelost až lživost politikových slov.
Tohle říká Václav Klaus a takhle to bylo doopravdy – přesně tato věta by docela klidně mohla stát v podtitulu Báječných let č. 2.
Dočteme se tak o vzniku Občanského fóra (s půvabným popisem prvního setkání Kvidova bratra s budoucím profesorem Klausem), nechybí výstižně pojatá kupónová privatizace, výměny soudruhů ředitelů za soudruhy ředitele, ani parodie kýžených novinek svobodného světa. Rozkošný je zejména popis Kvidovy babičky, která si díky reklamě (co je psáno, to je dáno) objednává nejrůznější předražené a nefunkční, rozhodně však pro život nezbytné předměty.