Deník postarší prvorodičky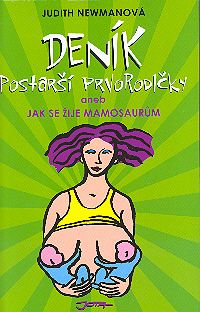 Tell a friend
CDN $22.00

(US $16.50)

CDN $5.00

(US $3.75)

270 pages

ISBN

: 80-7217-336-7

Publisher

: Jota

Published Date

: 2005

Cover

: Hard Cover
Czech
Ve své vtipné, osvěživé knize Newmanová odhazuje růžové brýle iluzí a hledí na realitu těhotenství a mateřství s nevídanou věcností. Mimořádně barvitě zachycuje nervy drásající prožitky všedních dnů, prožitky, kterým se nevyhne žádná prvorodička: od přebalování a odchodu z domu v šatech pomatlaných dětskými zvratky přes následky, jež s sebou nese katastrofální nedostatek spánku.
Je nemilosrdná a pravdivá - je to realistická zpráva pro ty, kteří chtějí a potřebují číst o skutečném životě. Je to kniha pro všechny ženy (věk nerozhoduje), jež se ve tři hodiny ráno probouzejí neutuchajícím řevem svého malého pokladu …
English
Humorous book about a woman who after sever years of trying finally gave birth to twin boys.