Mámin seznam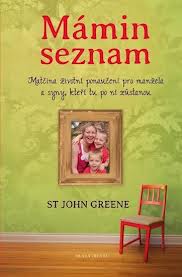 Tell a friend
CDN $26.00

(US $20.28)

CDN $10.00

(US $7.80)

336 pages

ISBN

: 978-80-204-2777-9

Publisher

: Mladá fronta

Published Date

: 2012

Cover

: Hard Cover
Czech
Mámě dvou malých synů zjistili rakovinu a ona věděla, že se nemůže vyléčit. Začala s pomocí manžela sepisovat rady a pokyny, jimiž se po jejím odchodu mají řídit, a nazvala je Mámin seznam.
Je v něm vypsané krok za krokem všechno, na co táta nemá při výchově synů zapomenout, co by měli kluci dodržovat a jak si máma představuje, že mají žít bez ní.
Psala to jednak proto, aby se manžel necítil po její smrti tak sám a věděl si rady, ale také proto, aby na ni kluci nezapomněli a aby na ně mohla dál působit, a také se tím vyrovnávala se smrtí.
O Mámině seznamu se pak dozvěděl místní tisk a po velkém ohlasu v celonárodních anglických médiích se táta rozhodl, že celý příběh převypráví.
Je to velmi dojemné čtení, prosté, věcné a v závěru i nadějeplné.
Ohlas čtenářky: Opravdu nejdojemnější kniha a jedna z nejkrásnějších, jakou jsem kdy četla.
English
Dying mother writes to her family.