Toulky s Charleym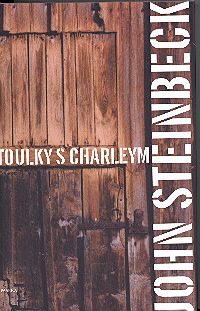 Tell a friend
CDN $20.00

(US $15.00)

CDN $10.00

(US $7.50)

256 pages

ISBN

: 80-7185-631-2

Publisher

: Paseka

Published Date

: 2004

Cover

: Hard Cover
Czech
V jedné ze svých nejpopulárnějších a čtenářsky nejvděčnějších knih podává Steinbeck svým nezaměnitelným způsobem obraz Ameriky, jak ji poznal během čtyřměsíční cesty napříč kontinentem ve druhé polovině roku 1960.
I po více než čtyřech desítkách let od svého vzniku zůstává jeho zpráva, motivovaná autorovým rozhodnutím "pokusit se znovu objevit tuto obrovskou zemi", cenným svědectvím o měnící se tváři Ameriky v dramatické éře přelomu padesátých a šedesátých let i o Steinbeckovi jako jejím humorném či skeptickém, vždy ale vnímavém a hluboce lidském pozorovateli.
English
Book about the changing face of America as the author saw it during his travels across the continent in 1960.