Z deníku kocoura Modroočka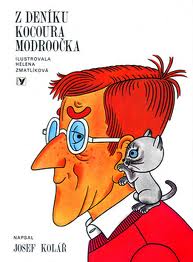 Tell a friend
CDN $29.00

(US $20.30)

112 pages

ISBN

: 978-80-00-02444-8

Publisher

: Albatros

Published Date

: 2011

Cover

: Hard Cover
Czech
Hřejivé vyprávění malého kocourka o všem, co zažil se "svým člověkem" od prvních krůčků po světě až po chvíli, kdy se sám stal pyšným otcem čtyř koťátek. Modroočkův deník nám prozradí, kdo je Zelenoočka, Bělovous, Zrzunda, Kiki a co se od nich náš kocourek naučil. Modroočkovy příhody pobaví a rozveselí, a navíc leccos zajímavého vypoví o vlastnostech a zvycích různých zvířátek.
Pro děti od 6 let.
Půvabná knížka ilustrovaná Helenou Zmatlíkovou.
English
Beautiful book about a kitten and it's master.
For children 6 years and over.