Čeština expres 1- anglicky + CD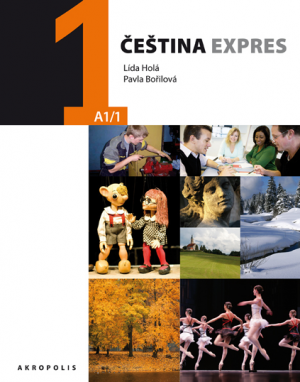 Tell a friend
CDN $70.00

(US $49.00)

ISBN

: 978-80-87481-22-6

Publisher

: Akropolis

Published Date

:

Cover

: Soft Cover
Czech
Přepracované a rozšířené vydání populární učebnice Czech Expres 1.
Publikace představuje první část dvoudílného základního kurzu "češtiny pro přežití".
Nová podoba učebnice vychází vstříc požadavkům Společného evropského referenčního rámce a je určena začátečníkům, kteří chtějí rychle dosáhnout jazykové úrovně A1.
V sedmi prakticky zaměřených lekcích se zájemci o češtinu naučí zorientovat se a reagovat v základních komunikačních situacích (např. témata Seznámení, Orientace, Moje rodina, Kdy se sejdeme apod.).
Učebnice se soustředí na zvládnutí řečových dovedností, především mluvení a poslechu. Česká gramatika je zde maximálně zjednodušena a student ji sám objevuje prostřednictvím textů a přehledných tabulek. Čeština expres 1 sestává z jednojazyčného, česky psaného textu učebnice, jehož součástí je nově i pracovní sešit, a Přílohy se slovní zásobou, gramatickými tabulkami a vysvětleními, které zprostředkují poznání češtiny v mateřském jazyce studenta (zároveň vychází anglická, německá a ruská mutace, připravujeme i další jazyky).
Text učebnice doplňuje množství barevných fotografií a originálních ilustrací včetně oblíbených komiksů. Publikace obsahuje zvukové CD.
English
Czech Express 1
is reworked and expanded edition of the popular coursebook Czech Express 1.
In seven practically oriented lessons students of Czech can learn to understand and react in basic communicative situations. It concentrates on mastering speaking and listening skills.
There are photograps and original illustrations including the popular cartoons. The set also includes an audio CD.