DVD Láska za časů cholery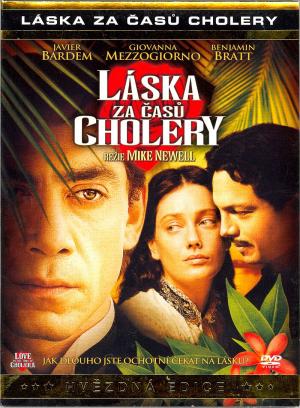 Tell a friend
CDN $22.00

(US $17.60)

CDN $5.00

(US $4.00)

Duration: 132 min.
Sub-titles: Czech
Czech
Adaptace jednoho z nejslavnějších románů klasika světové literatury dvacátého století o tom, že láska neumírá ani po 50 letech.
Florentino Ariza se jako mladík zamiluje do nádherné Ferminy.
Ta ovšem jeho lásku odmítne a její otec ji vzápětí donutí vzít si váženého lékaře Urbina. S tím se ovšem Florentino nesmíří a stále se o Ferminu pokouší. Fermina si záhy uvědomí, že její manželství jí sice zaručuje bezstarostný život, ale touhu po lásce nezasytí. Když se jednapadesát let poté, co jí Florentino poprvé vyznal lásku, konečně znovu setkávají, Urbino je již po smrti. A oni tak stojí před finálním rozhodnutím, jestli svůj fatální vztah konečně naplní.
English
Love in the Time of Cholera.