DVD René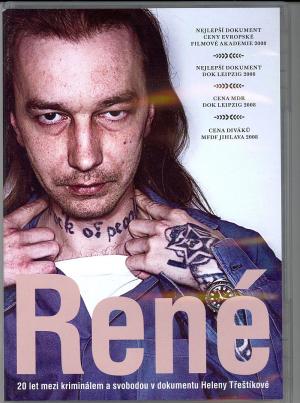 Tell a friend
CDN $23.00

(US $17.25)

CDN $3.00

(US $2.25)

Duration: 83 min.
Sub-titles: Czech and English
Czech
Helena Třeštíková jako první z českých tvůrců vyhrála s dokumentem René cenu Evropské filmové akademie. Když ráno brala telefon, ještě nic netušila. "Právě uklízím," hlásila těsně předtím, než se od MF DNES dozvěděla, že má evropského Oscara.
20 let mezi kriminálem a svobodou v dokumentu Heleny Třeštíkové.
Poutavý, ryze dokumentární film se syrovou autentičností vypráví těžko uvěřitelný příběh Reného, který byl od sedmnácti let sledován filmovou kamerou na své cestě mezi vězeními a krátkými pobyty na svobodě.
Kamera ho v roce 2008 opouští v jeho sedmatřiceti letech, tedy přesně o dvacet let později, jako nemocného člověka, muže stále se pohybujícího na hraně zákona, který napsal a publikoval dvě knihy. Čas proměny z mladíka v muže zaznamenávala režisérka Helena Třeštíková na pozadí významných politických změn střední Evropy.
Názor našeho zákazníka:
…v kazdem pripade sokujici, poprve skutecny pribeh opravdoveho trestance, jak uvazuje, co ma za normalni, proc se vlastne stale vraci do vezeni, co ho vedlo k tomu, co provedl na konci filmu? Je strasne jednoduche propadnout k jeho zavrzeni, ale neco to nedovoluje, mozna jeho inteligence? Je to rozhodne challenging, a nuti to k premysleni a take si uvedomit, co clovek vlastne ma a jak zil a zije svuj zivot a co dal lidem kolem sebe.
Irena, Canada
English
Documentary: life in prison.