DVD Svět patří nám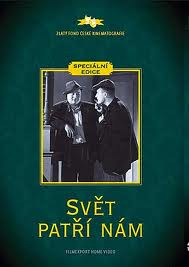 Tell a friend
CDN $25.00

(US $17.50)

CDN $15.00

(US $10.50)

Duration: 90 min.
Sub-titles: None
Czech
Voskovec a Werich ve skvělé komedii.
Dva nezaměstnaní, kteří se živí jako příležitostní kameloti, se náhodou zapletou do připravovaného protidemokratického puče a napomohou jeho nezdaru. Proslulá prvorepubliková politická satira byla v roce 1947 vydána ve zkrácené verzi., v níž byla například vypuštěna celá postava hraná A. Mandlovou. Film sice ztratil souvislou dějovou linku, ale scény V+W dále bavily a baví četné diváky. Pod společným pseudonymem Formen napsali scénář V+W, režisér a Karel Steklý.
Hrají:
Jiří Voskovec, Jan Werich, Vladimír Šmeral, Adina Mandlová, Bohuš Záhorský, Jaroslav Průcha, Miroslav Svoboda, Ladislav Herbert Struna, Zdeněk Štěpánek, Karel Dostal, František Černý, František Filipovský, Emanuel Kovařík, Jiří Hron, Jarmila Švabíková, Mirko Eliáš, Gustav Hilmar, Alfred Baštýř, Josef Oliak, Vladimír Smíchovský, Ni… (více)
English
Great oldie with Voskovec and Werich.